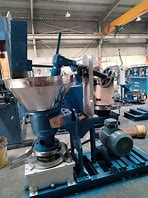 We are offering a wide range of Rotary Chekku Oil Extraction Machine. This machine is also used to extract Peanut Oil, Sunflower Oil, Coconut Oil, Castor Oil,Seasam oil,Almond oil .THIS IS ROTRY OIL CHEKKU MACHINE . THIS IS 10 KG MACHINE. 5HP MOTOR.
We are one of the Leading Supplier in these locations likely; Ariyalur, Chengalpattu, Chennai, Coimbatore, Cuddalore, Dharmapuri, Dindigul, Erode, Kallakurichi, Kanchipuram, Kanniyakumari, Karur, Krishnagiri, Madurai, Namakkal, Ooty, Pudukkottai, Ramanathapuram, Salem, Sivagangai, Tenkasi, Thanjavur, Theni, Thoothukudi, Tiruchirappalli, Tirunelveli, Tirupathur, Tiruppur, Tiruvallur, Tiruvannamalai, Tiruvarur, Vellore, Viluppuram and Virudhunagar, most Cities in Tamilnadu , Kerala and Karnataka.Request

Additional Information:
Item Code: SSER2
Production Capacity: 15 – 20 MINUTES / PER CYCLE
Delivery Time: 10 – 15 WORKING DAYS.
Packaging Details: FOR PLASTIC WRAPPING & WOODEN BOX FOR EXPORT ONLY WITH EXTRA COST.
We make varies kind of oil mills like marachekku machine , cold press oil extraction machine, rotary oil extraction machine, screw type oil mill machines.The oil mill machine makes varies size too, starting from 5 Hp, 7.5 Hp, 10 Hp , 12.5 Hp and 15 Hp in power variants and also starting from 16 Kg per hour to 60 Kg per Hour Production in Rotary oil extraction mill machines. Oil Extraction machines can extract all kind of oil seeds like Groundnut (Peanut) Oil, Sesame Oil (Gingelly Oil), Coconut (Copra) Oil, Mustard Oil, Sunflower Oil, Rapeseed Oil, Castor Oil, Flaxseed (Linseed) Oil, Gingelly Oil,Almond Oil, olive oil , Vegetable Oilas well as non-edible oils like need, Karachi Oil, Pungan Oil, Illupan Oil,Neem Oil, Moringa (Drumstick) Oil,Blackseed (Black Cumin) Oil, castor oil, Cashew shell Oil, Cottonseed Oil.etc.,. the oil mill solution have 7 lack more customers in all over the world. The oil mill machine Manufacture strongly present to our new products every year and produce the value addition machines for oil mill Industry.
Additional Information
| | |
| --- | --- |
| Delivery Time | 15 Days |
| Packaging Details | Open pack or Wooden pack as per customer wish |
We are the Manufacturer, wholesaler and exporter of Oil Extraction Machine, Oil Processing Machine, Oil Mill Machine, Oil Seeds Crushing Machine. Our products are widely admired due to their longer service life, top performance and low prices.
Complying with industrial specifications and adopting ethical business policies we have garnered a huge network of clients that lay their faith in us and build an association with us. Supported by huge infrastructure that the company has, we have been able to enhance the quality and rate of production by using state-of-the-art technology. The team is also able to enjoy and use the advance techniques at their disposal available at the base. Maximizing clients satisfaction by the quality of products and on time delivery, we also focus on the pricing policy and customization.