Paper Plate Making Machine
To meet the specific demands of clients, we manufacture and supply a qualitative range of Paper Plate Making Machine Manufactures In Karnataka. These are extensively applauded.
for accurate dimensions, durable performance, application specific construction and reliability. Our machines are specially designed as per international industrial.
standards and are offered in various specifications following our customers' demands. Hydraulic Paper Plate Making Single Die Machine, areca leaf plate making.
machine Ahmednagar Maharashtra Our organization is well known manufacturer and supplier of Semi Automatic Double Die are ca leaf plate making machine Paper Plate.
Making Machine in Ahmednagar Maharashtra.
We SS Engineering Works believe that, sale is not an end of a relationship, but just the beginning of our services. With this belief we destined to bring in products, which are customer oriented. We have the ability to offer you the best value products that meet or exceed expectations all at competitive prices. We have successfully supplied our machines to Karnataka, Andhra Pradesh, Maharashtra, Tamil Nadu etc.
Specifications:
Power Consumption: 8hrs-16 units Manpower:
8hrs -3helpers Production
8hrs-14′- two dies – 25000 nos
8hrs buffet 2 dies -10000nos All Kinds of Dies are 4′-
14′ comfortable in our machinery
One Year Warranty.
About us
SS Engineering Works has an experience and expertise in this domain for more than a decade, S.S Engineering Works is able to comprehend the requirements of
clients and fulfill them with quality products. We are one of the key Manufacturers, Suppliers & Exporters of Areca Leaf Plate Machine, Betel Leaf Plate Machine,
Disposable Plate Machine, Palm Leaf Plate Machine, Single Die Paper Plate Machine, Paper Plate Machine etc, which are engineered employing sophisticated technology and
high test components & constituents, ensuring consistent performance with higher efficiency at reduced costs. Mr. R. Sam path Kumar(CEO).Coimbatore Tamil Nadu Kerala
Karanataka Ahmednagar Maharashtra Telangana Who has more than 20 years of experience in manufacturing hydraulic machines helping us in the production of a motley
range of Areca Leaf Plate Making Machine and others. We have become the reputed member of International Organization for Standardization that ensures our right
business ethics and professionalism. Offering high performance and low maintenance products at affordable prices, we have been catering to the needs of pharmaceutical.
Image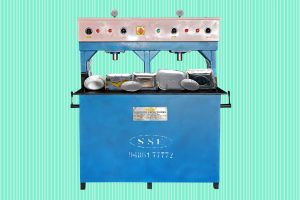 February 7, 2018
Categories: