Manual Areca Plate Machine
---
Professionally managed and quality-driven, S.S. Engineering Works has made a trustworthy position for itself in the matter of Paper Plate Making Machine. Our proficient  Manual Type Areca Leaf Plate Making Machines are perceived for their solidness, durable development, high creation limit, and life span. A portion of their other propelled highlights are exact measurements, use of value crude material in the assembling procedure, prerequisite of unimportant upkeep and exact cutting and in addition embellishing. They are accessible in different sorts relying upon particular modern necessities of customers. For our customers' fulfillment, we additionally modify items as indicated by their particulars. Our clients that we have served for as far back as years have never had a grumble about our administration as we do our absolute best to give the most ideal quality item and nothing less.
To meet the specific demands of clients, we manufacture and supply a qualitative range of Double Hydraulic Machines Single Die Machine. These are extensively applauded for accurate dimensions, durable performance, application specific construction and reliability. Our machines are specially designed as per international industrial standards and are offered in various specifications following our customers' demands. Manual Type Areca Leaf Plate Making Machines, Areca leaf plate making machine Ahmednagar Maharashtra Our organization is well known manufacturer and supplier of Semi Automatic Double Die Areca leaf plate making machine Paper Plate Making Machine in Ahmednagar Maharashtra.
Features
Our range is developed by using finest grade raw material to ensure smooth performance of the machine for longer duration's. These are widely demanded due to their very less maintenance, design and durability. The production capability of this Areca plate making machine is top to prove vastly valuable to our clients.
✓  Power Consumption: 8hrs-16 units Manpower: 8hrs -3 helpers
✓  Production:- 8hrs-14′- two dies – 25000 nos 8hrs buffet 2
✓  Dies -10000 nos All Kinds of Dies are 4′-14′ comfortable in our machinery
✓  One Year Warranty.
Manual type – I
✓  Body Type : Casting body
✓  Height : 3.5 feet
✓  Size : 2 x 2 feet
✓  Operation : fly press type
✓  Die Size : 3 inch – 12 inch
✓  Capacity : 1T
✓  Movement : screw rod type
✓  Production capacity : 300/hr
Manual type – II
✓  Body Type : Steel body
✓  Height : 3.5 feet
✓  Size : 2 x 2 feet
✓  Operation : fly press type
✓  Die Size : 3 inch – 14 inch
✓  Capacity : 1.5T
✓  Movement : screw rod type
✓  Production capacity : 300/hr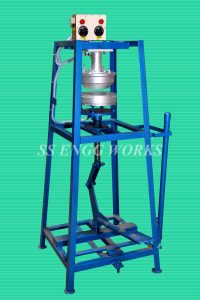 ARECA PLATE MACHINE
PAPER PLATE MACHINE
MARACHEKKU MACHINE
ROTARY VEIN CHEKKU MACHINE
OIL EXTRACTION MACHINES
SPECIAL PRODUCTS
SPARE PARTS