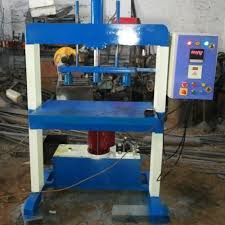 Introduction
To meet the specific demands of clients, we manufacture and supply a qualitative range of Double Hydraulic Machines. These are extensively applauded for accurate dimensions, durable performance, application specific construction and reliability. Our machines are specially designed as per international industrial standards and are offered in various specifications following our customers' demands.Hydraulic Paper Plate Making Machine,are ca leaf plate making machine Koppal Our organization is well known manufacturer and supplier of Semi Automatic Double Die are ca leaf plate making machine Paper Plate Making Machine in Koppal. Our range is developed by using finest grade raw material to ensure smooth performance of the machine for longer duration's. These are widely demanded due to their very less maintenance, design and durability. The production capability of this paper plate making machine is top to prove vastly valuable to our clients.
Specifications of Hydraulic Paper Plate Making Machine:
Power Consumption: 8hrs-16 units Manpower:
8hrs -3 helpers Production
8hrs-14′- two dies – 25000 nos
8hrs buffet 2 dies -10000 nos All Kinds of Dies are 4′-14′ comfortable in our machinery
One Year Warranty.
Features of Hydraulic Paper Plate Making Machine :
Optimum performance Reliability High quality
Donec elementum mi vitae enim fermentum lobortis. In hac habitasse platea dictumst.
Ut pellentesque, orci sed mattis consequat, libero ante lacinia arcu
ac porta lacus urna in lorem. Praesent consectetur tristique augue
eget elementum diam suscipit id.
About us
SS Engineering Works has an experience and expertise in this domain for more than a decade, S.S Engineering Works is able to comprehend the requirements of clients and fulfill them with quality products. We are one of the key Manufacturers, Suppliers & Exporters of Areca Leaf Plate Machine, Betel Leaf Plate Machine, Disposable Plate Machine, Palm Leaf Plate Machine, Single Die Paper Plate Machine, Paper Plate Machine etc, which are engineered employing sophisticated technology and high test components & constituents, ensuring consistent performance with higher efficiency at reduced costs. Mr. R. Sampath Kumar(CEO). Who has more than 20 years of experience in manufacturing hydraulic machines helping us in the production of a motley range of Areca Leaf Plate Making Machine and others. We have become the reputed member of International Organization for Standardization that ensures our right business ethics and professionalism. Offering high performance and low maintenance products at affordable prices, we have been catering to the needs of pharmaceutical.
Image:
July 24, 2019
Categories: