Automatic Marachekku Oil Machine Due to its high build quality, sturdy construction and resilience, the demand for the oil extraction machine is exponentially rising in the marketplace. We provide the Automatic Marachekku Machine in different sizes and technical configurations to fulfil the diverse demands of our clients. The complete range of the machine can be purchased at the shoestring price from us.Oil Extraction Machine. We are a leading Manufacturer of semi oil extraction machine,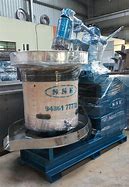 Benefits:
High quality construction and Sturdy frame for Longer life
Robust design for easy operation and maintenance
Produces Quality Organic oils under traditional cold pressing technology
Low Cost and less energy efficient to reduce expenses.
Description
Medium Noise and No Vibration Ø 3 HP and 3 Phase Motor
Simple Mechanism
Easy Maintenance
For Foot Rest Use Rubber Mate (1x1x20mm)
Power consumption 3 to 5 units/hour
Handling Free
Ladies can also operate the machine easily
Production capacity: For 40 to 60 minutes (approve 6 to 9litres oil)
Production capacity is according to the Quality of the type of seeds.
Applications:
Commercial and Industrial