Areca Plate Making Machine Manufactures Tamil Nadu
About us:
SS Engineering Works has an experience and expertise in this domain for more than a decade, S.S Engineering Works is able to comprehend the requirements of clients and full fill them with quality products. We are one of the key Manufacturers, Suppliers & Exporters of Areca Leaf Plate Machine, Betel Leaf Plate Machine, Disposable Plate Machine, Palm Leaf Plate Machine, Single Die Paper Plate Machine, Paper Plate Machine etc, which are engineered employing sophisticated technology and high test components & constituents, ensuring consistent performance with higher efficiency at reduced costs. Mr. R. Sampath Kumar(CEO).Coimbatore Our branches are Tamil Nadu ,kerala,karanataka Andra pratesh Telgana Mahabubabad Who has more than 20 years of experience in manufacturing hydraulic machines helping us in the production of a motley range of Areca Leaf Plate Making Machine and others. We have become the reputed member of International Organization for Standardization that ensures our right business ethics and professionalism. Offering high performance and low maintenance products at affordable prices, we have been catering to the needs of pharmaceutical
Offering you a complete choice of products which include disposable plate making machine, plate making machine, leaf plate making machine, palm plate making machine and betel leaf plate making machine.
We manufacture and supply Disposable Plate Making Machine. The machine is manufactured with fine grade raw materials to ensure smooth functioning of the machine for longer duration's. Power pack machine these machines demand very less maintenance due to its structure, designs and patterns. There are no complications in using these machines as the handling is very simple and easy.
Areca Leaf Plate Making Machine-Semi-Automatic Type-I Specifications
Body type : MS steel body Height : 4.5 feet Size : 9.5 x 2.5 feet Production Capacity : 2000 – 2500/8hrs Electrical 9mm Tubular heater type Panel box type Hydraulic pressing smooth operating Aluminium with MS die Hydraulic capacity/Power pack capacity 3T – 5 cylinders Oil Capacity : 25 litres Motor : 2HP Heater Watts : 4000w Die size : 12,10,8,6,4 inches Any type of die can be used Cycling time : 30sec Pressure control valve Auto regulating control
Areca Leaf Plate Making Machine-Semi-Automatic Type-II Specifications
Up to 3 inch – 14 inch plate manufacturing capacity Body type : MS steel body Height : 5 feet Size : 10 x 2.5 feet Production capacity : 2000 – 2500/8hrs Electrical 11mm Tubular Heater type Panel box type Hydraulic system for smooth operation Aluminum + MS die Hydraulic capacity/Power pack capacity 5T – 5 Cylinders Oil capacity : 30 liters Motor : 2.5Hp Heater watts : 4500w Die size : 12,10,8,6,4 inches Any type of die can be used Cycling time : 25sec Individual auto pressure control valve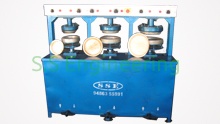 February 20, 2018
Categories: