The Areca Leaf Plate Making Machine is manufactured with high quality & heavy duty metallic structure and customized to suit all sizes of paper plate production as per the requirement.
Manufacturing and export of all shapes of Areca Leaf tableware.
Manufacturers of hydraulic Areca leaf plate making machines – Electrical and Mechanical types.
Suppliers of imported packing machines, POF shrink films and shrink packaging machines – manual, semiautomatic and automatic.
Carton sealing machines, UV sanitizer tunnels, sanding machines, buffing machines, The use and throw Palm Leaf Plates / Natural Leaf Plates/ Areca Leaf Plates and Cups made out of Areca Leaf are 100% biodegradable and compostable. These hygienic, non-odorous, non-toxic, light weight plates and cups made out of Areca leaf are environment friendly. An economical disposable alternative for all catering occasions.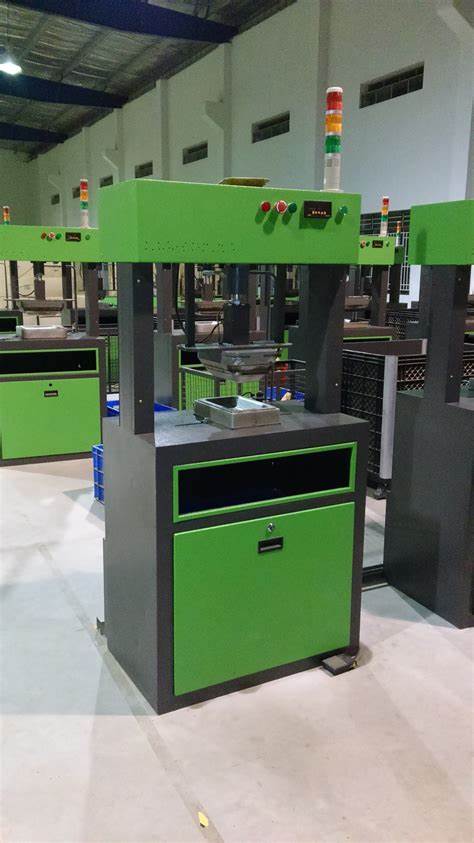 Providing you the best range of Areca leaf Plate Making Machine, Semi Automatic Areca leaf Plate Making Machine, Pakku Thattu Plate Making Machine, Semi Automatic Sal Leaf Plate Making Machine. Our Areca leaf plate making machine is equipped with electrical control panel for smooth operation and optimum efficiency.
Our company offers exclusive range of Areca Leaf Plate Making Machine. These have the capacity to hold up to 12 inch plate. We offer these machines in various shape and sizes as per the needs and requirements of our respected clients. Our product is famous for its high productivity with less power consumption and less man power.
Various Shapes and Sizes
• High quality Aluminum dies
• Precision Cutting Edges
• Highly durable Frame
• Efficient Performance
• Less Power Consumption
• Less Man Power and High Output
We assemble our range using branded components, thereby, highly acclaimed among customers for their tremendous attributes such as high operational efficiency, sturdy construction, precision engineering, corrosion resistant, highly qualitative and many more. The components we outsource from most reliable vendors of market, who are holding distinguished niche and are appreciated for their ability of providing quality material. Since the initial stage of sourcing raw material from the vendors till final shipment of the finished goods, each level is stringently examined, so that no chance would be left for quality degradation. Besides, for the maintenance of quality in products, we have adopted several rigorous quality testing measures suggested by the industry.